News & Events
Tyntek to expand Si-based sensor chip production capacity
Tyntek will expand production capacity for Si-based sensor chips by 20% with a capex budget of NT$468.3 million (US$16.8 million), according to the company.
Tyntek has two factories in northern Taiwan, one equipped with 5-inch wafer epitaxy tools and the newly completed one with 6-inch wafer epitaxy machines in the first phase.
As the 5-inch capacity has been highly utilized for a while, Tyntek said it will add more 5-inch wafer epitaxy equipment at the new factory in the second phase construction, with the additional capacity to come into operation in second-half 2022.
Tyntek has begun to use 6-inch epitaxial wafers to produce Si-based sensor chips used in automotive sensing devices and smart wearable devices for small-volume shipments, and expects such shipments to significantly increase in volume beginning March 2022.
Ennostar has become a main shareholder of Tyntek, which will provide Si-based sensor chips for Ennostar to develop photo receiver devices to match its LED-based photo transmitting devices and both companies will cooperate to develop various LED solutions.
Tyntek's factory in central China has not been impacted by restricted power supply there, but the restriction has affected some China-based clients' production.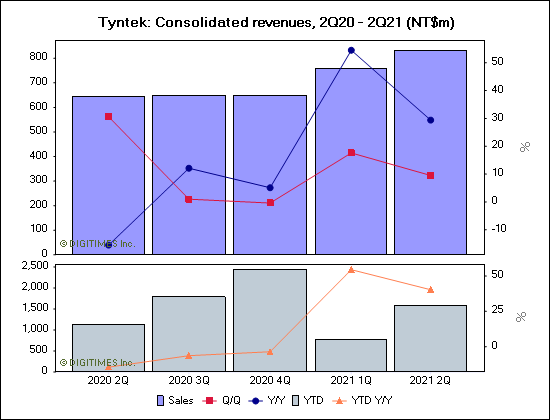 Tyntek: Consolidated revenues, 2Q20 - 2Q21 (NT$m)

Quarter

Sales

Q/Q

Y/Y

YTD

Y/Y

2Q-21

831

9.5%

29.4%

1,591

40.3%

1Q-21

759

17.6%

54.5%

759

54.5%

4Q-20

646

(0.4%)

5.1%

2,429

(3.6%)

3Q-20

649

1%

12.1%

1,783

(6.4%)

2Q-20

642

30.6%

(15.5%)

1,134

(14.5%)
*Figures are consolidated
Source: TSE, compiled by Digitimes, November 2021
By DIGITIMES