News & Events
Samsung spending billions to keep OLED lead on China
Samsung Display plans to more than double its OLED flat panel display manufacturing capacity over the next three years to maintain its world's leading position in the face of intense competition from China.

On April 4, at a ceremony attended by South Korean President Yoon Suk-yeol and Samsung Electronics Chairman Lee Jae-yong, the company agreed to build new OLED display production lines in Asan, south of Seoul, at a cost of 4.1 billion won ($3.1 billion). Samsung Display is owned by Samsung Electronics.

Is the announced investment a big deal? Read on for a complex but simplified history showing that
without a commitment to manufacturing, invention fades into Wikipedia footnotes;

too many Japanese competitors and too little cash flow could not deal with high-powered competition from South Korea and China; and

no one should underestimate the will of Samsung and Korea Inc.
OLED (organic light-emitting diode) displays produce images without the backlight required by LCDs (liquid crystal displays). They are thinner, lighter, brighter and have higher color contrast ratios than LCDs.

They can be foldable, too. OLED displays are taking over the smartphone market and replacing LCDs in other devices. Estimates of OLED market growth rates this decade range from 10% to over 20% per annum.

South Korea and Taiwan stole the LCD market from Japan years ago, but are now losing it in turn to China, which appears to have two-thirds or more of the growing global market. Moreover, BOE Technology, TCL China Star Optoelectronics Technology and other Chinese companies have been ramping up OLED production and now have more than 40% of that market.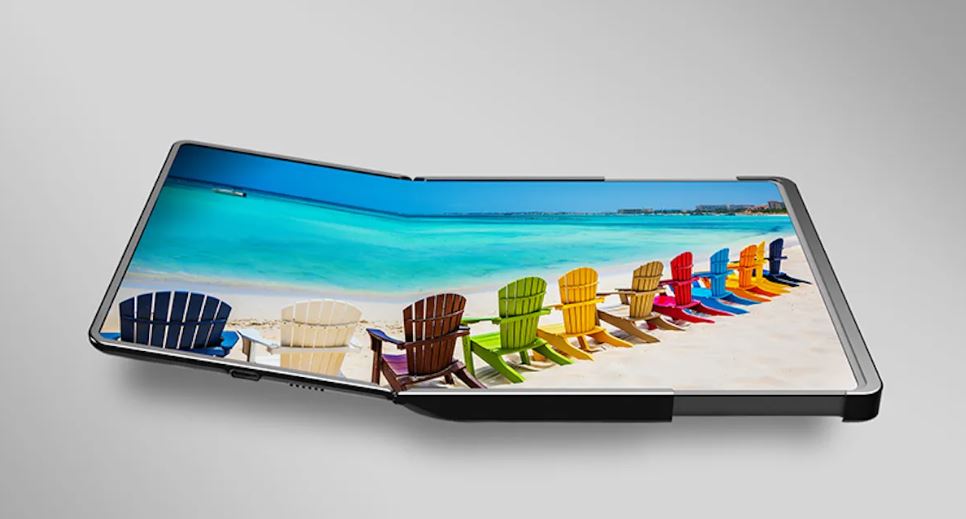 Flex Hybrid OLED display combines foldable and slidable capabilities for future laptops. Photo: Samsung Display
Samsung Display and LG Display (South Korea's other large display maker) together have an estimated 55% of the OLED display market, with LG Display concentrating on TVs, signage and other large-size applications.

In 2021, according to Display Supply Chain Consultants, Samsung had 59% of the OLED market, followed by LG Display with 23% and BOE with 9%. Since then, Korean market shares have dropped sharply – making Samsung Display's announced investment in new and more advanced capacity imperative.
Japan lost most of its OLED display manufacturing capability when JOLED Inc filed for bankruptcy in March. JOLED was created through the merger of Panasonic's and Sony's OLED operations in 2015, but did not start production until 2021 and never made a profit.

JOLED will transfer its intellectual property and R&D personnel to Japan Display Inc (JDI). Created through the merger of Sony's, Toshiba's and Hitachi's small and medium-sized LCD operations in 2012, JDI is itself close to bankruptcy, according to reports.

South Korea and China, including Taiwan, now produce almost all of the world's flat panel displays (FPDs). But they can't do it without Japanese equipment.

Canon and Nikon control the market for FPD lithography, both LCD and OLED. Canon Tokki Corp and ULVAC Technologies Inc dominate the vapor deposition systems used to place the organic materials that form the RGB (red-green-blue) light-emission layers of OLED displays. Applied Materials is also a large supplier. Canon took a majority stake in Tokki in 2007 and made it a wholly-owned subsidiary three years later.

JOLED was the first company to ship OLED displays made using inkjet printing instead of lithography and evaporation technology, but it is no longer in business. Samsung, LG, AU Corp, BOE, China Star Optoelectronics and others are working on the technology, leaving open the possibility of a breakthrough.
Display technology migration
LCDs were invented at RCA in the early 1960s following decades of research into liquid crystals in Europe. The thin film transistor liquid crystal displays (TFT-LCDs) that we are familiar with today were developed at Westinghouse in the early 1970s and put to use in calculators by North American Rockwell Microelectronics.

Sharp, Seiko, Casio and Citizen soon followed with their own calculators and digital watches. Philips and others in Europe made progress with the technology in the 1980s, but Japanese companies – including Epson, Sanyo, Hitachi, NEC, Toshiba, Panasonic and Sony – developed LCD projectors, computer monitors, TVs and other products, creating the entire display industry.

Samsung Electronics entered the business in the mid-1990s. LG Display, originally a joint venture with Philips, was established in 1999. Samsung Display was founded as a joint venture with Sony in 2004, the same year that Korea surpassed Japan to become the largest producer of LCDs. Philips and Sony were later bought out.

The Japanese transferred LCD manufacturing technology to Taiwan in the late 1990s in an effort to deal with high costs in Japan and falling prices. This backfired as Taiwanese companies steadily gained market share. In 2016, Foxconn (Hon Hai Precision) took control of Sharp, which had led the industry but foundered due to poor management.

China entered the market in 2006. By 2021, China had 50.7% of the LCD market, followed by Taiwan at 31.6% and Korea at 14.6%, according to data from market research company Omdia and the Korea Display Industry Association. Japan retained only 2.6%.
In 2022, Samsung Display stopped making LCDs, which Samsung Electronics now procures from BOE Technology in China and AU Corp in Taiwan. Recent market research reports indicate that Chinese companies now have more than two-thirds of the LCD market.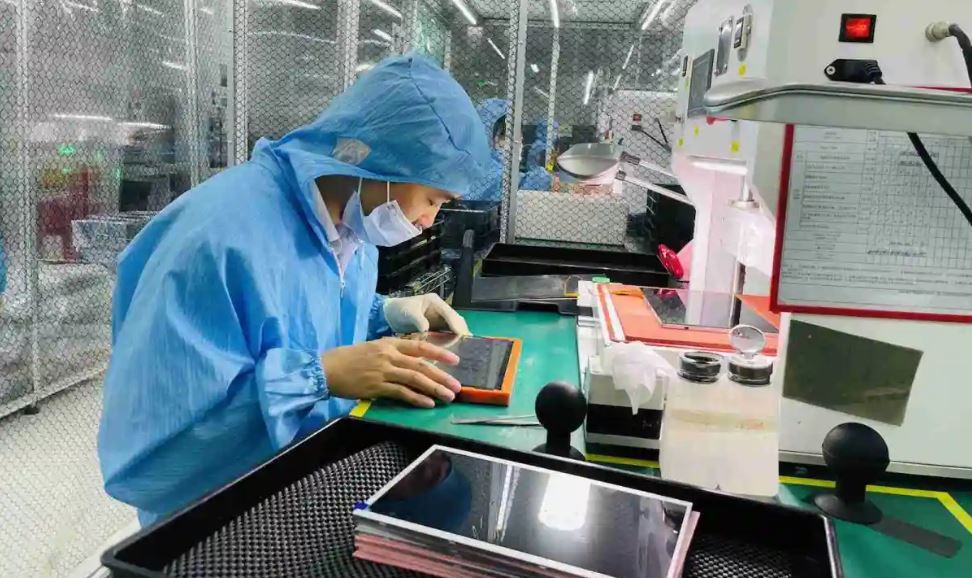 An LCD production facility in China. Image: Eagle Corportation
The emission of light in response to an electric current (electroluminescence) in organic materials was first demonstrated in France in the 1950s. Further developments of the technology were made in the US and UK before Kodak and Sanyo announced the first color OLED display in 1999. Pioneer, TDK and the Samsung-NEC Mobile Display joint venture soon followed with their own products. NEC exited the business in 2004.

Sony announced the first OLED TV in 2007, gave up in 2010, then returned to the market in 2017 with screens made by LG Display. Sony differentiates itself with superior image processing technology.

In 2018, annual production of OLED displays exceeded 500 million units, most of them used in smartphones. Last year, the figure was about 50% higher and within the next five years it could reach one billion. Market research company TrendForce forecasts that about half of all smartphones will be equipped with OLED displays in 2023 and more than 60% by 2026.
By LEDinside