News & Events
COB technology development of major LED display companies
COB technology is considered to be the next generation of Outdoor led display packaging technology, and it has made a qualitative leap in terms of performance and pitch. Although COB technology has strong technical advantages, due to cost issues, COB products are currently only oriented to the mid-to-high-end commercial display market, and have not reached a high market penetration rate. Going back a few years, the market share of COB is even Less than 10%.

From the relevant research and development of some enterprises in COB technology, it can be seen that the flip-chip COB packaging technology is the advanced direction of the current layout of COB screen enterprises. and so on are superior.

To this end, we specially interviewed major LED display manufacturers to understand the current trends of COB.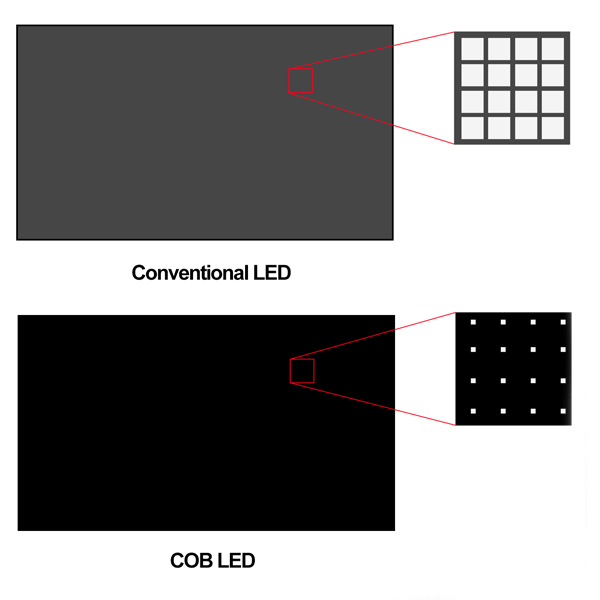 LED COB technology
Lianjian Optoelectronics: yield rate of COB finished template process reaches 99.99%


At present, Liantronics has complete COB R&D, design, manufacturing, and after-sales maintenance capabilities, and has been able to achieve chip-level COB finished module rework, and the process yield rate has reached 99.99%, which is in the leading position in the industry.

At the ISE exhibition not long ago, Liantronics also exhibited its VT0.7, VTⅡ0.9 and other series of micro-pitch products in the COB area. The advanced Vmini micro-pitch display technology and micron-scale light-emitting chips enable the LED display to present a darker black field and higher contrast.


JYLED: Set up COB manufacturing center

3D LED Display has now established a professional COB manufacturing center, covering an area of more than 800 square meters. JYLED's flip-chip COB micro-pitch display technology has won many awards, and this product has been widely used in high-end conference rooms, control rooms, radio and television studios and other scenarios. Due to the use of flip-chip COB packaging technology , the product is stable and reliable, can easily cope with various environmental tests, and continues to operate stably.


Cedar Electronics: Has full mass production capacity of flip-chip COB series products

As the industry leader in COB display technology, Cedar took the lead in completing the development of flip-chip COB technology as early as 2013. In 2017, it was also authorized for related invention patents, and completed the iterative upgrade from formal COB to flip-chip COB technology. Cedar also released the world's first 0.4mm ultra-high-definition fine-pitch flip-chip COB 2K splicing display in the national "13th Five-Year Plan" special project "Ultra-high-density small-pitch LED display key technology development and application demonstration".

At the beginning of this year, Cedar Electronics held its 2023 full flip-chip COB innovative product promotion and cooperation exchange conference in Hainan. At the conference, Cedar Electronics demonstrated its multiple integrated flip-chip COB integrated packaging processes and core patented technologies for pixel multiplication Mini LED products, and revealed that based on the flip-chip COB integrated packaging supporting industry chain, Cedar has completed the development of 75-inch, 85-inch, 98-inch, 120-inch and other series of products and has full mass production capacity, and this product is leading It was first released by international outdoor LED display giants such as Samsung and Sony, and the complete set of technologies has reached the international leading level.
By LEDinside