News & Events
JBD has made a major breakthrough in R&D technology, helping Smart Glasses lead the consumer market
Red MicroLED renews the brightness record with 750K nits!

AlGaInP is the most mature semiconductor material for red LEDs. It is widely adopted in commercial lighting and display fields with advantages of low cost, high brightness and excellent reliability. However, due to the "size effect", the efficiency of AlGaInP-based MicroLED is reduced by an order of magnitude when approaching micrometer scale, becoming a generally recognized problem in the industry. However, with extensive R&D efforts, JBD has achieved some exciting breakthrough in addressing the issue with size effect. With the latest generation of red MicroLED displays JBD has managed to break their own industry record in terms of light efficiency and brightness.

As reported, to increase red efficiency, JBD manages to redistribute the local charge carriers by a breakthrough in surface treatment process and in this way, minimize the surface non-radiative recombination and boost the efficiency. With the same power consumption, the panel brightness increases remarkably from 500000 nits to 750000 nits, while maintaining excellent reliability as always. It is mentioned that JBD expects to implement this technology in mass production by middle of 2023 and also in their ultra-compact polychrome engine with a volume of only 0.4cc.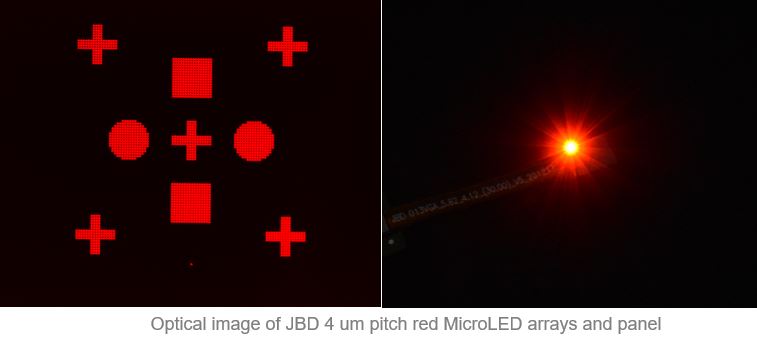 The world's smallest polychrome projector is about to launch

The 0.4cc polychrome projector is JBD's highlighted product this year and will be unveiled to the public at SID Display Week in Los Angeles, USA, in May. The polychrome projector is only 0.4cc (cubic centimeters) in size and weighs only 1.0 grams, but it can output more than 4 lumens of luminous flux. The standard field of view of the polychrome projector is 30°, but angle of between 25° and 45° is optional. Coupled with high efficiency waveguide (>500 nits/lm), the glasses incorporating this projector will provide ultra-high brightness of 2000 nits to the eye, with the polychrome projector consumes as little as 260 milliwatts, enabling all-day use of Smart Glasses.

The MicroLED polychrome projector to be released by JBD is the world's smallest polychrome projector. Whilst, micro projectors with other imaging sources such as DLP & LCoS are available the most noticeable differentiating factors for MicroLED projectors are form factor & power consumption. The illumination or backlighting unit of LCoS and DLP projectors take up valuable space thereby resulting in a volume of greater than 1cc for LCoS & 2cc for DLP projectors. The biggest drawback of projectors based on illumination systems is that to achieve highest brightness the illumination system has to be switched ON at max power. Whereas for JBD's MicroLED projector only the pixels that are switched ON have to be powered at max brightness whereas the OFF pixels (typically >90% in most applications) consume zero power. JBD's 0.4 cc optical engine breaks through technical barriers and meet all the requirements for a portable Smart Glasses: "light", "bright", "low power consumption" and "low cost". It is the ultimate solution so far by providing consumer comfort, glasses form factor, all day wear ability and full functionality. Further details of the 0.4cc projector will be revealed in May 2023.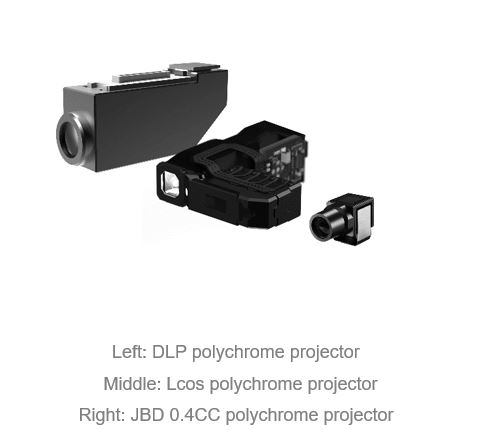 Brightness record from QD on-chip microdisplay panel

While mass producing the most advanced MicroLED micro-displays, JBD is also actively exploring the possibility of using quantum dots (QD) in AR/VR. QD has high conversion efficiency and maybe an alternate solution for polychrome panel by coupling with ultra-high brightness MicroLED as excitation light source. In their R&D, JBD has achieved 37,000 nits in red by application of red QD on chip, which remains the highest reported figure for brightness at a pixel pitch of 4um or lower. When combined with blue and green QDs to make a polychrome panel, the brightness is expected to exceed 150,000 nits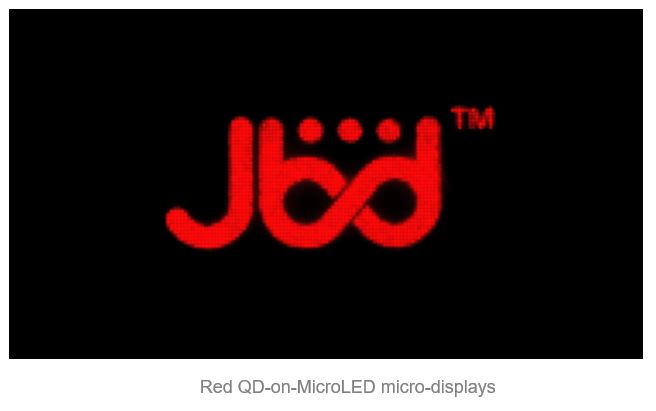 As for the secret behind the relatively high brightness achieved with QD, JBD explains that it is mainly due to the ultra-efficient MicroLED array, and the high absorption efficiency of QD with special stimulation wavelength. Nonetheless, JBD's main approach and efforts for making full color MicroLED displays is still using native MicroLED technology. Using QD directly on chip is still a long way away from realizing a mature product. Brightness is at least an order of magnitude lower than what is required for AR whereas thermal decay, reliability and optical isolation are all huge challenges that will require years of R&D. JBD will continue to invest in QD on-chip technology to break through the efficiency, reliability and brightness bottleneck. They expect to develop a high-brightness polychrome prototype this year, to investigate suitability for non-AR applications that do not require ultra-high brightness.


Exploration on InGaN red MicroLED

JBD has been regularly monitoring the developments based on InGaN-based red MicroLED from academia and industry. JBD's blue and green monochrome displays are based on InGaN and the company has in-depth know-how in this material in terms of material physics, growth & processing. Hence, JBD has also done in-depth research in InGaN based red MicroLED. By cooperating with well-known partners, such as Porotech specializing in porous GaN technology, JBD has investigated the feasibility of InGaN-based red MicroLED by implementing its own MicroLED chip technology. The results confirm that the brightness of InGaN-based red MicroLED micro-display is orders of magnitude lower than the requirements for AR. The wavelength of InGaN material depends on the amount of doping. For InGaN red, the material is doped with large quantities of Indium which give rise to a number of issues that are very difficult to solve. In addition to the lower brightness, InGaN red suffers from low reliability, very wide spectrum for red, color uniformity and color stability. Accordingly, JBD has concluded that there are fundamental physical problems that could not be solved in the short term, and will not pursue this option for making red MicroLEDs in the near future.


Join and build the metaverse together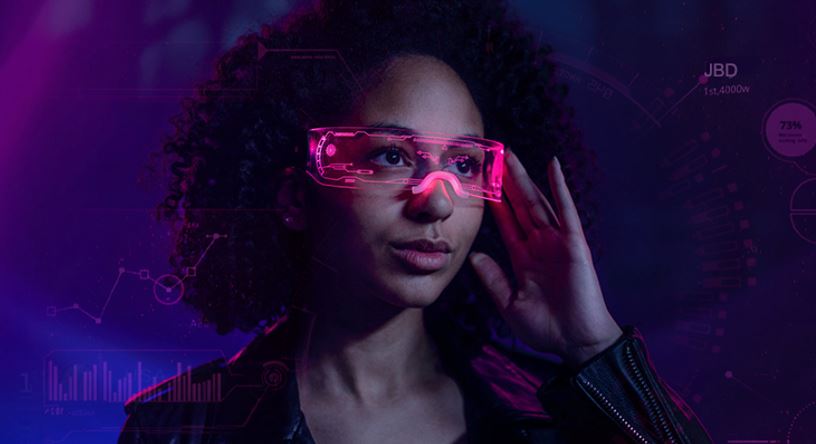 Together with a fast growing metaverse, JBD will continue exploring new technologies and developing new products. Its business expands by establishing global sales and capability to customize displays and solutions to customers' needs. Till date, JBD has shipped more than 1 million MicroLED micro-display panels. The construction of its Hefei plant is complete and will be operational soon to cater for the increase in demand that the AR industry is observing and will achieve an annual production capacity of 120 million panels.

In 2023, JBD will become a catalyst in the ramp up of Smart Glasses production by offering its groundbreaking technologies and integrated solutions such as light engines, which will help Smart Glasses break into the consumer market and pave the way for metaverse.
By LEDinside